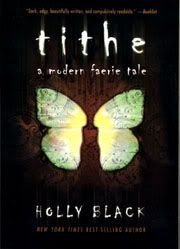 I passed by this trilogy numerous times over the years and I never gave it a good look over. Now I'm sorry it took so long to realize that Tithe is another amazing feat by Holly Black, author of the popular Middle Grade Spiderwick Chronicles.
If you want a cute and cuddly fairy tale then leave Tithe on the shelf. On the other hand if you want an edgy, gripping read then this is your best bet.

Sixteen-year-old Kaye is about as real-world as it gets, following her band junkie mom from dive to dive. When she returns to her child hood town on the Jersey shore she finds that her imaginary friends from child hood weren't so imaginary. In fact they are back and begging her to help win their freedom with a risky plan.

What really had me hooked were Black's characters. I was sucked into Corny and Kaye's POV from the first few chapters. It is really hard not to gush about them. Not to mention you have the smooth, mysterious knight Roiben.

The faeries Black has created are true to legend and as far from Fern Gully as you can imagine. I suppose I will leave the rest up fine patrons. But seriously, next time you visit the library think about picking up Tithe.